Techniques and processes for working in Marble
Marble carving sculpture is the art of creating three-dimensional forms from marble. Sculpture is among the oldest of the arts. Even before painting cave walls, early humans
fashioned shapes from stone. From these beginnings, artifacts have evolved to their current complexity.
You Fine Sculpture is located in Quyang County, Hebei Province, which is know as"The Sculpture Hometown of China". Our factory was founded since 1983, which is specialized in stone carving with a great expanding in all fields of Sculpting Business during the past 30 years. Our factory is equipped with the modern workshops and created clay model designs.
1. Hand Carving
Before the development of metal carving tools, harder stones were used to shape soft stones like chalk or soapstone. The hand carving process today has remained largely unchanged and remains a physical process – though steel chisel, tools and mason's hammers are used to subtract material away from a larger stone blocks.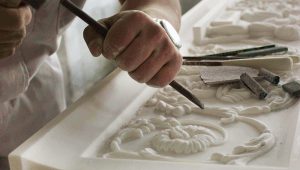 2. Letter Cutting
Letter cutting is similar to hand carving, but uses the chisel at different angles to make letterforms. It is typically used to make gravestones, plaques or lettering on monuments.
Much like a sign painter, training in the art of letter cutting means developing a solid understanding of typography. Lettering is often adapted to the type of stone; considering layout and purpose when deciding on the shapes, spacing, colours, shadows and type of cuts to be used.
3. Stone Polishing
Stone can be rough, flat, matt, smooth or polished into a high gloss finish similar to glass. To achieve this there are a number of different stone polishing machines and techniques that can be used. This includes grinding – a process similar to sanding, where large metal discs or diamonds sand out roughness and imperfections. The next stage is buffing, where polishing powders and compounds such as silicon carbide are pushed over the surface.
It is worth bearing in mind that not all stones can be polished – granites, marbles and some limestones work well, but they might all require different polishing techniques.
4.Clay Moulding
If some sculpture need to be customized,we usually need to make a clay mould first.YouFine sculpture have professional designers and artists, we can customize any sculptures based on your designs or requirements. We're good at the traditional handicrafts, western sculptures and products with western ideas.